Jeffrey Brandes - Eastcoastsportsinvestors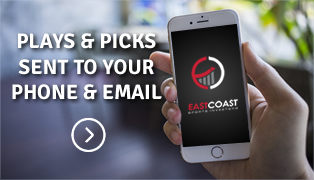 Jeffrey Brandes 3 months (90 days) all reports - Auto renew
- $750



Jeffrey Brandes 1 Week (7Days) - $125
Jeffrey Brandes 2 WEEKS (14 DAYS) - $175



Jeffrey Brandes Monthly (30 Days)- $375.00
Jeffrey Brandes WEEKEND WARRIOR (SATURDAY & SUNDAY) - $75.00

Jeffrey Brandes 1 DAY - $45.00



Jeffrey Brandes Horse Racing Only - 1 Day - $25.00
SPORTS and HORSE RACING
Hello Everyone - Jeffrey Brandes here! Let me cut right to the chase. When betting sports, you will win and you will lose. THAT IS A FACT! Accept the losses as a part of doing business. If anyone tells you they win everyday you need to cut all ties with them and run the other way as fast as you can peddle. The results of all of TEAM BRANDES plays are documented and may be viewed at http://www.sportswatchmonitor.com/ It's all very transparent. Patience is the one thing all sharp bettors have in common. Even when you're on a super run for the month of say 70% winners, your bankroll still has to survive 30% losers. Patience is the key to success in this business...and I say business because that is just how I treat it...it's my livelihood. Do you think that you have what it takes? Would you like to join me and start making a living doing this? Then what are you waiting for? Sign up right now and start living the dream.
Introducing Jeffrey Brandes, Elite Sports Handicapper.
Jeffrey first appeared on the scene as a public handicapper in 1996. He advertised his horse racing selections in the Daily Racing Form. A couple of his noteable moments were when he sold his selections for the 1996 Kentucky Derby with the sales approach of "Dosage Rules The Derby". He also correctly advertised in the Racing Form that Cigar's 16 race winning streak would come to an end in the Pacific Classic at Del Mar.
Once the internet began to get under way, Jeff wrote a column for Rolling Good Times Online on a daily basis. He also wrote articles for other websites as a guest from time to time.
Later that year he was appoached by an internet horse racing sight who shall remain unnamed to avoid any legal issues. He was an original handicapper with them covering the New York and Kentucky circuits. In addition to horse racing, he also worked for that same company handicapping the NBA and NFL.
After that run, Jeffrey went it alone. He handicapped for a short time for sportswire.com using the name Brandes Sports Information Network. He also had his own website, allprocappers.com which actually did quite well just selling horse racing selections.
Sports Haven in New Haven Ct. held it's first tournament in 1997 and Jeffrey was there. His most successful adventure in a tournament came around 2000 when he had Early Pioneer $200 win in what he believes was the Hollywood Gold Cup. Victor Espinoza was the jockey. He bet the race $90 across for himself and believes he got back $3138 when the race was official. He was close up on the leaders board at that time but with just one bet left and several others still ahead of him, he "took the money" and ran home. On the entire ride back, in the snow and ugly weather, all Jeffrey could say in the car back to New Jersey was "Come on Victor, come on Victor".